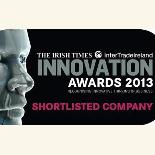 We are shortlisted for the 2013 Irish Times Innovation Award! We are up to the next stage of the awards process so keep your fingers crossed for us!
What is our innovation this time, you say?
Our Mash Pots offer a significantly healthier and more nourishing alternative to most sandwiches, subs and microwave burgers. With calorific values ranging from 208 - 273 Calories/Pot and low to medium levels of salt, fats and sugar (as a % of GDA), our Mash Pots contain less calories than most 'lite'/low-calorie sandwiches and offer a significantly healthier and more filling hot snack alternative to burgers, pies, panini's and pasties.