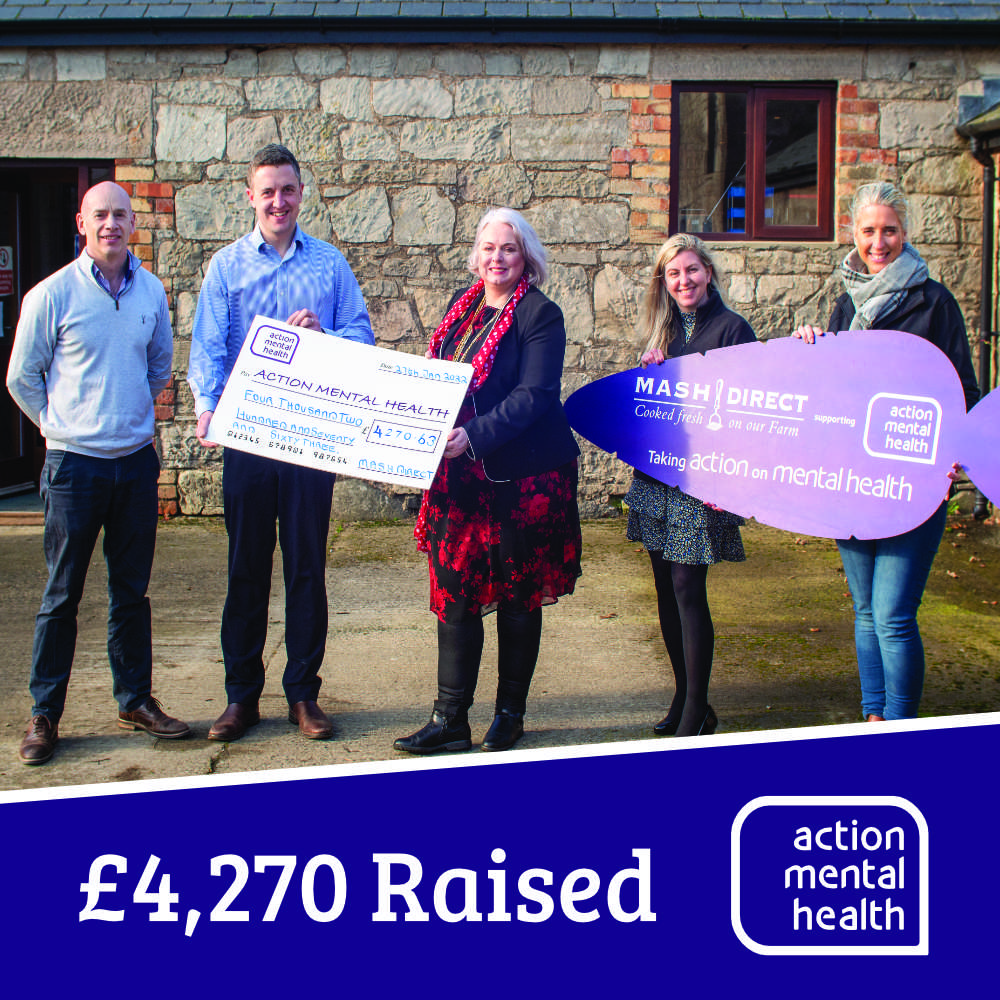 We announced our first Charity Partnership with Action Mental Health in January 2020 to raise vital funds to support the charity's work across Northern Ireland and help support mental health and wellbeing.
We are delighted to announce that we have raised £4, 270.63 to support the services of Action Mental Health and allow the valuable work they are doing to continue. Our employees hosted several events and took on several challenges including: an Abseil down one of Belfast's most iconic landmarks the Europa Hotel and several staff took part in Action Mental Health's 'Get Your Move on Challenge' taking part in a 230-mile challenge to cover landmarks and towns up and down the country where Action Mental Health services are located.
We also donated funds from our staff shop to the charity and hosted various raffles throughout the year with local suppliers and businesses offering prizes to support the charity. Fundraising has been challenging because of the global pandemic Covid-19, but this highlighted the necessity for us to work hard to support Action Mental Health and highlight the services they offer.
Jack Hamilton, Chief Operating Officer said, "We know that one in five people in Northern Ireland will show signs of mental illness during their life, and that one in ten children will experience a diagnosable mental health disorder.  As a company we recognise that this is a huge issue for Northern Ireland particularly with the onset of Covid-19 and one that we are very passionate about in helping to address through our partnership with Action Mental Health."
The partnership has provided the opportunity to increase people's knowledge of positive mental health, while further helping to break down the enduring stigma around mental ill-health.
Jonathan Smyth, Fundraising & Communications Manager for Action Mental Health added, "We were delighted to work in partnership with Mash Direct over the last two years, it has been a challenging time but Mash Direct have continued to raise awareness of the services we offer and work with us to raise funds to allow us to offer services and help people across Northern Ireland.
It has been widely recognised that a healthy, balanced diet can help to promote positive mental health.  A healthy and varied diet can really help to provide more energy to an individual, allow them to think more clearly and ultimately improve their general mood.
Action Mental Health delivers a range of services across Northern Ireland including the provision of recovery services for adults as well as resilience and emotional well-being training in schools and indeed is currently adapting these services for online and remote delivery, while face to face contact is not possible.
Action Mental Health website: www.amh.org.uk