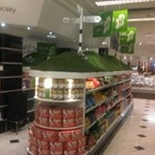 Mash Direct products are available in Selfridges. The Foodhall has been transformed over April to host a range of Irish artisan food producers. Experience a taste of Ireland in the Selfridges London Foodhall from 10 to 29 April. For three weeks the Foodhall will be a hub for Irish artisan food producers and host a programme of culinary events, including cooking masterclasses with some of Ireland's top chefs.
During the three weeks, there will be a host of cookery demonstrations from some of Ireland's most influential chefs: Darina Allen of the Ballymaloe cookery school and restaurant – one of Ireland's finest; Ross Lewis, of the Michelin-starred Dublin restaurant Chapter One (who cooked for the Queen during her recent visit to Ireland); BBC1's Saturday Kitchen favourite, Kevin Dundon; Niall McKenna of the Belfast Cookery School, who will be recreating the Titanic Menu and not forgetting the inimitable Richard Corrigan.
Ewan Venters, Selfridges Food Director says; "The Island of Ireland is rich in diverse ingredients, offering the finest heritage, produce and product. The Delicious Ireland event will bring all those credible qualities to London, offering our Food Hall customers the chance to taste, feel and see a snapshot of what Ireland has to offer. We hope our customers enjoy the experience as much as the Artisan Irish producers will, showcasing their products".