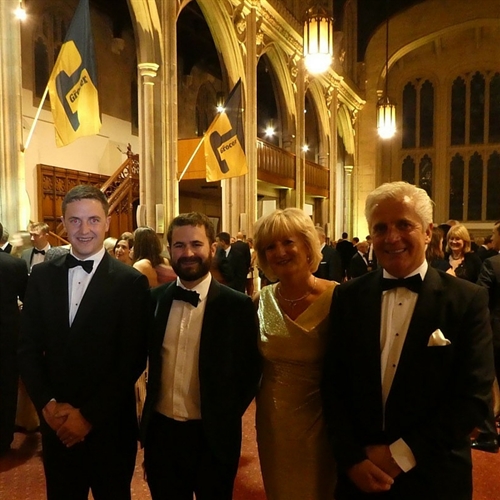 We are thrilled to have been named as one of the top SME Brands of the Year by The Grocer.  On Tuesday 14 June the Hamilton family travelled to London to represent Mash Direct and we were up against some of the biggest names on the supermarket shelves at a wonderful event at the grand Guildhall.
We were delighted to be selected as finalists for the Small and Medium Enterprises (SME) Brand of the Year category. The category was filled with excellent brands which we were proud to be considered alongside, such as BrewDog, Propercorn and Lily's Kitchen, just to name a few. Fever-Tree lifted the award this year, with their premium range of tonic waters and mixers which have seen huge worldwide success over the last 10 years.
It was a wonderful evening had by all, with everyone celebrating what was a fantastic year in the FMCG sector. The evening was hosted by Simon Callow (best known for his roles in Amadeus, Ace Ventura and Four weddings and a Funeral) and The Grocer Editor, Adam Leyland, who proudly announced the winners of the evening.
Jack Hamilton, Marketing Director, commented, "To be mentioned in the same breath as some of these brands having come from humble beginnings on a small farm in County Down is unbelievable.  This accolade is a testament to the hard work that the whole team puts in every day.  It is a pleasure to meet the people behind some of the biggest and most exciting food and drink brands in the UK and we were able to learn a huge amount from them to ensure that we continue to innovate and grow."
"We are honoured to be the only representatives from Northern Ireland at the awards this year and hopefully the Northern Ireland Year of Food and Drink will be a catalyst for more of us to be here next year.  Fingers crossed!"
To see the full list of The Grocer Gold Awards 2016 winners click here.