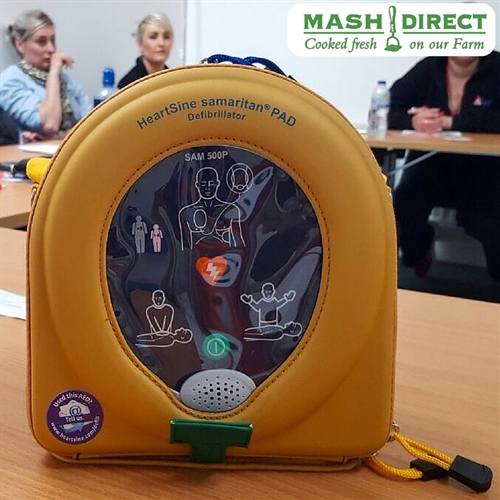 Around 1,400 cardiac arrests occur each year in Northern Ireland outside of hospitals, of which fewer than 10% of people will survive. Therefore, we decided it was vital that we invested in a defibrillator for our staff and guests at Mash Direct.
We invited the British Red Cross in to provide a full training course for our staff on how to use a defibrillator machine. The course covered a recap of personal safety and each step of using a defibrillator from assessing the incident to handover with the emergency services.
Clare Forster, Head of Marketing at Mash Direct said "The training session was extremely interesting and useful for everyone involved. It was fascinating to learn how important early CPR and defibrillator shocks are to a person's chances of surviving a cardiac arrest. I am happy to say I can now confidently use a defibrillator. I would encourage other businesses around Northern Ireland to invest in one, as they really can save lives. Thanks again to the British Red Cross for providing our training course."
See some pictures of our defibrillator training course below.
Click here to find out more on the British Red Cross automated external defibrillator (AED) machine training course.
Or click here for more information on defibrillators.