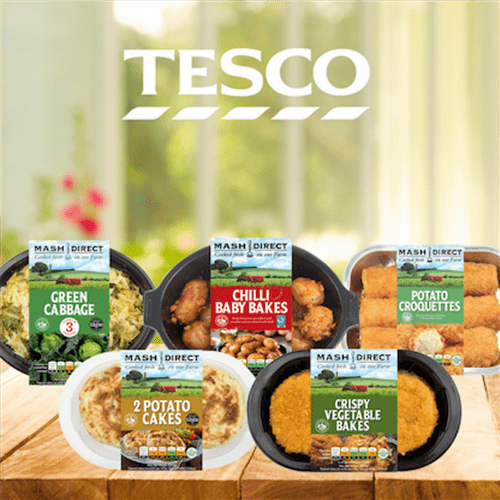 We are delighted to have agreed a new deal with one of the UK's biggest supermarket chains, Tesco. The contract will see five of our products go into 73 Tesco stores across England starting on the 14th June 2017. We are celebrating the opportunity of being showcased on the end of aisle in Tesco stores by launching our products with a special, introductory price of £1 per pack.
Already available in over 160 Tesco outlets across Scotland and Northern Ireland and an additional 130 stores in the Republic of Ireland, we are setting the trend for convenient and healthy
vegetable side-dishes.
Sales Director, Lance Hamilton said: "This is such a great opportunity for us to showcase the heritage varieties of vegetables on our family farm, grown specifically for their superior flavour. We already have a strong working relationship with Tesco and we are looking forward to building our reputation in these new stores."
The five products launching into the Tesco stores from the 14th June are: Chilli Baby Bakes, Green Cabbage, Crispy Vegetable Bakes, Potato Croquettes and Potato Cakes, RRP £1 per pack.
Check out if your local store is stocking them -
Tesco Extra Abingdon
Tesco Amersham
Tesco Allerton Road
Tesco Aldershot
Tesco Extra Aylesbury
Tesco Extra Ashby De La Zch
Tesco Extra Baguley
Tesco Extra Baldock
Tesco Bedford
Tesco Blackpool Clifton
Tesco Extra Bristol East
Tesco Bromley By Bow
Tesco Extra Bursledon Twrs
Tesco Extra Brooklands
Tesco Burgess Hill
Tesco Brighouse Bradford
Tesco Carlisle
Tesco Extra Cirencester
Tesco Colchester
Tesco Extra Durham
Tesco Extra Lakeside
Tesco Hoover Building
Tesco Guildford
Tesco Harlow Edinburgh Way
Tesco Extra Hemel Hempstead
Tesco Leeds Roundhay
Tesco Extra Leicester
Tesco Macclesfield
Tesco Extra New Malden
Tesco Extra Lee Mill
Tesco Northampton South
Tesco Extra Poole
Tesco Potters Bar
Tesco Extra Pitsea
Tesco Extra Prescot
Tesco Extra Redditch
Tesco Extra Reading
Tesco Romford Gallws Cn
Tesco Extra Salisbury
Tesco Extra St Neots
Tesco Extra Sandhurst
Tesco Sidcup
Tesco Stratford Upon Avon
Tesco Extra Stevenage
Tesco Extra Sunbury
Tesco Extra Swindon
Tesco Extra Lea Valley
Tesco Extra Weston Favell
Tesco Extra Whitstable
Tesco Extra York
Tesco York Tadcaster Rd
Tesco Extra Great Yarmouth
Tesco Extra Stourbridge
Tesco Beccles
Tesco Mansfield Jubilee
Tesco Extra Ryde
Tesco Extra Bradley Stoke
Tesco Extra Walkden
Tesco Extra Dudley
Tesco Farnworth
Tesco Seaton
Tesco Extra Woolwich