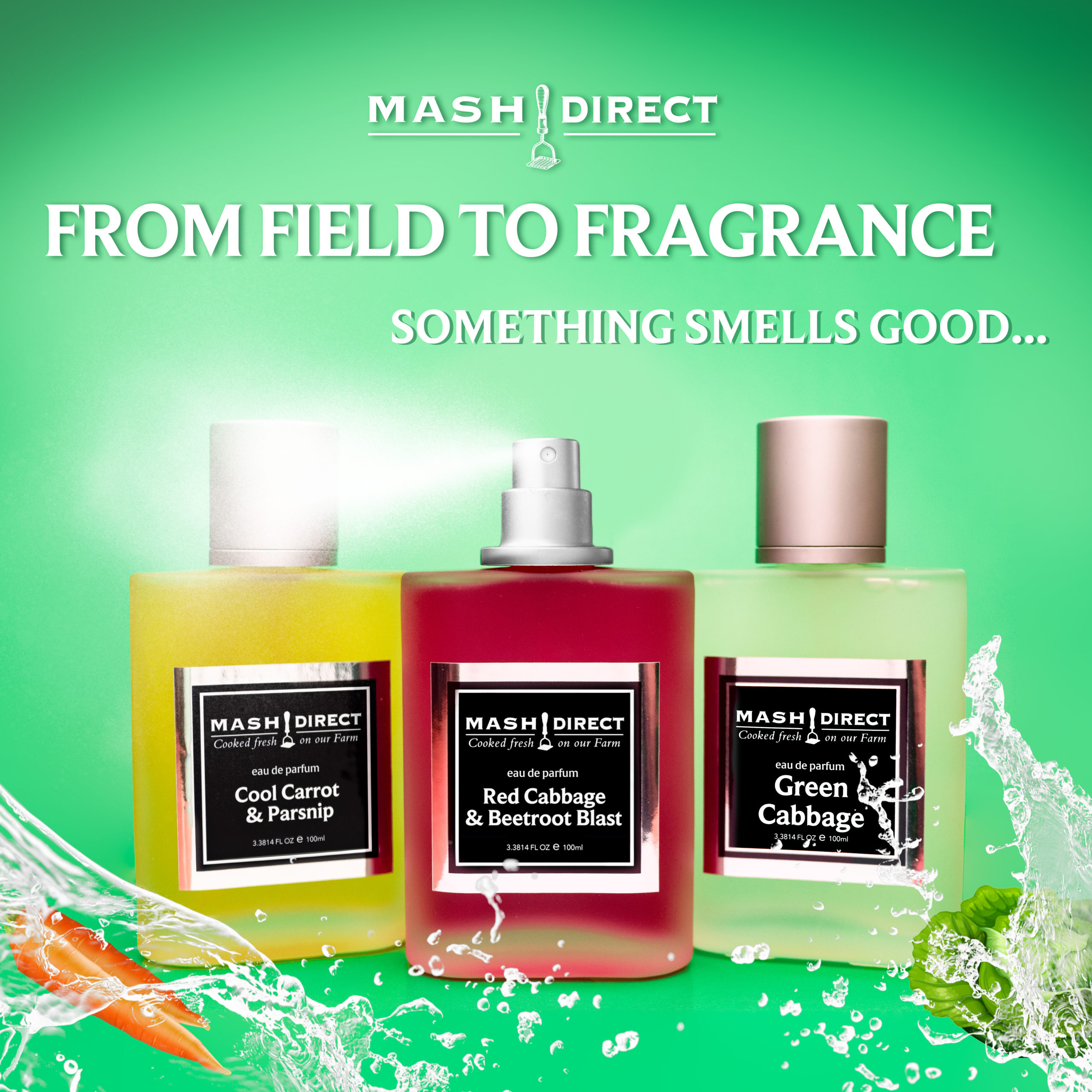 'Field to Fork' and now 'Field to Fragrance', here at Mash Direct we are delighted to reveal a new product launch that we have been working on for the last few months. Taking a slight departure from our usual convenience award-winning side dishes, we are happy to launch the new Mash Direct Fragrance, available in three scents.
The New Product: The Careful Consideration Of Our New Fragrance.
Mash Direct was founded and is led by the award-winning Hamilton family team: husband and wife Martin and Tracy and their sons, Lance and Jack. Our farm is located in the lush green countryside of County Down, close to the shores of Strangford Lough in Northern Ireland. We are proud to select older heritage varieties of vegetables for their products, specifically for their flavour.
After careful consideration, we have decided to take our delicious heritage home-grown vegetables and diversify these into three new fragrances, which encompasses the scents Cool Carrot and Parsnip, Red Cabbage and Beetroot Blast, and Green Cabbage. Each fragrance encapsulates the distinct farm fresh scent and colour. Made fresh with our produce, our fragrances are kind to your skin, with no added chemicals or artificial colourings.
Our New Product Development team has been working diligently to create our fragrances. The process included many different variations, vegetable combinations and testing of the product in order to get it to the finished products we have today. Victoria, one of the creators behind the fragrances commented, 'After months of trailing products and testing out innovative flavours and scents, we are delighted with the outcome, being naturally fragrant without any harmful chemicals'.
What People Are Saying?
If you still aren't convinced to give up your perfume and cologne, then why not give a read of what other people are saying about our new product?
Rebecca Hart from Palm PR described our new products as 'delicious colognes'. One lucky customer also got to try our products before anyone else, Holly from east Belfast commented 'My favourite was the Red Cabbage and Beetroot blast. I was really impressed with the fragrances, they smelt delicious, I kept getting complimented on it the whole day'.
Jack Hamilton, Chief Executive Officer of Mash Direct, commented, 'We are thrilled to be extending our product range into a new and exciting direction. With the perfume and fragrance manufacturing industry set to expand in 2023, this was a great opportunity for us to make this venture into a new market. The team have been working diligently behind the scenes for months to make this a success, and we are delighted to bring a new product to market with the opportunity of reaching new consumers and sharing the Mash Direct brand in a new and innovative way.'
Where To Purchase?
Retailing at £12.99 per 100ml, our fragrance will be hitting the shelves on 1st April 2023 in many local retailers and a few selected perfume stores in Northern Ireland and the United Kingdom.
Here are some useful links to purchase our fragrances in retailers throughout the UK.
Tesco, £12.99: https://www.tesco.com/groceries/en-GB/shop/health-and-beauty/all
ASDA, £12.99: https://groceries.asda.com/cat/toiletries-beauty/1215135760648
Perfume Retailers, based on select stores only.
Perfume Shop, £12.99: https://www.theperfumeshop.com/gifts/lc/C105
The Fragrance Shop, £12.99: https://www.thefragranceshop.co.uk/niche
Check the Date: April Fools
Sorry to disappoint everyone, but unfortunately, our Mash Direct Fragrances were only April fool's joke!
But don't forget you can still try out our farm fresh vegetables made using our traditional family recipe in stores today!