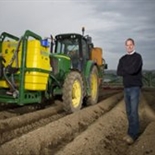 Everyone at Mash Direct would like to congratulate our Farm Manager, Gary Adams, who has been rewarded as one of the UK's top farm managers.
Gary was presented with his prestigious accolade as the Syngenta Farm Operator of the Year held in Lincolnshire on 13-14 June.
Gary is a highly experienced farmer, who is responsible for 1000 hectares of our farm land and ensuring our vegetables reach the consumer in perfect condition.
Syngenta Area Manager, Raymond Hilman, said: "Gary has consistently shown outstanding skills".