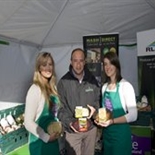 The much anticipated Tesco Extra store in Newtownards finally opened its doors on Monday 3rd October 2011.
The store is one of the largest Tesco stores in Northern Ireland and with over 300 employees, 107 new jobs were created. Tesco has included numerous endevours to ensure their new store is environmentally friendly such as using 100% sustainable timber cladding in the structure, natural lighting and the store will be able to generate its own electricity using a combined heat and power plant which collects "waste" heat.
Mash Direct were among the local producers celebrating the opening, holding a special sampling for customers visiting the new store.