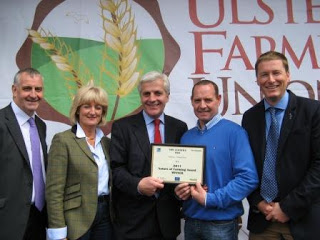 ENDANGERED yellowhammer, tree sparrow, Irish hare and field mice are not what you would usually associate with farming on a big scale, but that is precisely what the RSPB found on Martin Hamilton farms, producers of the well-known brand Mash Direct. And so impressed were they that they are the Northern Ireland winners of this year's Nature of Farming Award.
The annual award is a joint enterprise with the RSPB, Butterfly Conservation, UFU, Plantlife and The Telegraph who run this award to highlight the work that farmers are doing to help the wildlife on their farms.
Martin Hamilton farms and Mash Direct together make up a family-owned innovative farming and food production business. Based near Comber in Co. Down, they grow a wide range of vegetables which are used to produce an extensive range of mash potato and cabbage products under the Mash Direct brand.
The farm has actively adopted a range of innovative methods and practices to maximise their positive impact on the environment. These include, integrated farm management, efficiency improvements to minimise carbon emissions and energy consumption, recycling and re-use of water, and ecological approaches to pest and weed control.
"We are delighted to have won this award," said Martin Hamilton. "The family have had a long held interest in wild life and we hope that this demonstrates that good business can co-exist with good environmental practice."
Wildlife flourishes on both the Martin's home farm and at the Mash Direct farm with threatened seed eating farmland birds such as yellowhammer, tree sparrow and linnet using the hedgerows as a breeding ground.
Wild bird cover is sown each year and winter stubbles are retained to help these species sustain themselves over the winter months. Rough grass margins are also maintained which not only benefit breeding birds by attracting insects for them to feed to their chicks but mammals like the Irish hare, shrews and field mice.
Martin's farm will now be put forward for the next level of the judging process and will hopefully make it through to national level of the award.