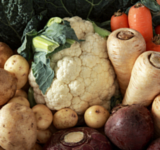 It is always great to arrive into work, log onto the computer and read lots of lovely comments from our customers.
We love getting feedback from our fans and to show how much we appreciate it we have published a few social media and email enquiries that we have received in the last week.
Thank you to everyone who were in contact.
"I just had your Veg Burgers with cabbage for the first time and they are fantastic!! Picked them up in a Spar in N Ards and am delighted with the size, texture & taste. And that's saying something as I am a dyed in the wool meat eater! Well done, another great product. Regards Tom Robb, Bangor"
"Hi there. Just to let you know I discovered your products a couple of months ago and I'm completely hooked; especially the vegetable burgers. I let everyone know how good they are. Well done and good luck for the future. Mary Cameron x"
"Thank you Mash Direct, you have really made a difference to my food enjoyment as a coeliac. Love your products especially the cauliflower cheese gratin and potato croquettes ….yum"
"Are the vegetable burgers gluten free? I'd checked them a while back & thought they weren't. If they were I'd be overjoyed! I love them!"
"If you haven't tried these they're yum! xx"
"So good to have good quality local gluten free products - keep up the good work!"
"Vegetable burgers are fab. I'm coeliac so great to have them and other products to choose from gluten free potato croquettes!!! They are very good!"
"@mashdirect Really good folks, I am munching on some as we speak!"
"These Vegetable Burgers from @MashDirect taste nice in pittas with lettuce & sweet chilli sauce http://ow.ly/OGQBj"
"Just discovered @mashdirect veggie burgers! Unreal! Tasty, scrumptious - I could dive into a whole box of them!"