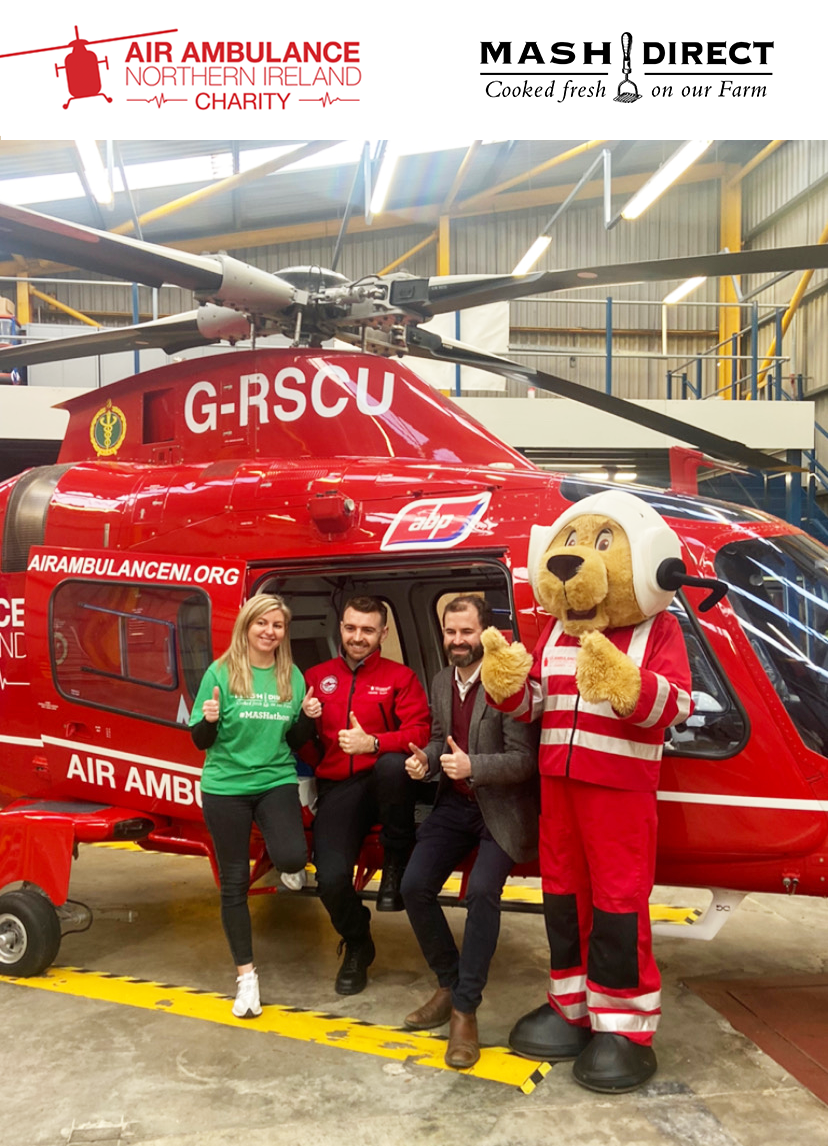 Air Ambulance NI (AANI) is the only air ambulance service in Northern Ireland. Providing lifesaving operations from any level, being in the sky or street, they are true heroes of the sky here in Northern Ireland. 
Who are the AANI
Carrying out their first tasking in July 2017, AANI, although a young organisation, the work they do is immeasurable. Operating 365 days a year for 12 hours per day, AANI is always on call when needed. They provide helicopter emergency medical services across Northern Ireland.
Running this vital service is all about getting to situations quickly and safely. Currently, AANI has two AW109 helicopters which astonishingly can reach any location across NI in just 25 minutes, making it in some cases, the fastest response for life-threatening situations.
Their mission is 'to provide outstanding critical care where and when it's needed most'.
AANI is a charity organisation which relies on the support of the public and local businesses to fund this life-saving service.
The work AANI does across Northern Ireland.
The AANI crew have had over 3,000 call-outs since they started in 2017, and on average, they are needed twice per day.
The crew attend to life-threatening situations to provide pre-hospital care to patients who desperately need it. In some extreme cases, the team are trained on how to perform operations at the scene, including amputations if needed.
Workplace and farming-related incidents make up 10% of the AANI callouts. From accidents surrounding cattle, farming machinery to slurry, Air Ambulance are on hand to provide essential care to farmers and farm workers across the country. With a call out to an agricultural-related incident weekly, AANI is a crucial component of the emergency services here in Northern Ireland.
Patient Stories
Farmer David Thompson knows first-hand the lifesaving work the AANI does on a daily basis after being in an accident in 2019. David was working on his family farm when he fell from a latter 14 feet in the air. The AANI was called, and the teams provided medical intervention on scene. Due to the work of the HEMS team and NIANS David has made a full recovery and has fundraised £5,000 for the AANI.
Similarly, to David, Farmer Michael Holywood from Omagh also experienced the lifesaving work of the AANI not once but twice within his family. Michael was attending the vets with one of the young bulls from his farm. In a scary turn off events, the bull turned on Michael resulting in life threatening injuries. Thankfully the AANI were called, and Michael was flown to the hospital in approximately twenty minutes. Michael has made a full recovery and his family supports the AANI with his daughter fundraising over £2000 for the charity.
Air Ambulance at the Marathon
AANI are a charity partner at this year's Mash Direct Belfast City Half Marathon. They are the eyes in the sky while we are all focused on what's happening on the ground! They are there to ensure that anyone who needs help is cared for.
Plenty of people run the Mash Direct Belfast Half Marathon in aid of AANI, raising essential funds to ensure this imperative service is continued and funded. If you haven't signed up with a charity as part of your Mash Direct Belfast City Half Marathon challenge, why not fundraise for Air Ambulance NI? Contact Air Ambulance Northern Ireland on 028 9262 2677 or email via belfastmarathon@airambulanceni.org
How we can support the AANI
Each year it costs up to 2 million pounds to provide this service across Northern Ireland. Each of the crew needs special equipment and uniforms to perform these lifesaving tasks, such as helmets, flight suits and waterproofs, to name a few. It costs £3104 for equipment per team member, and therefore AANI relies on fundraising and the kindness of the public to fund this for their staff members.
If you are wondering how you can donate to this life-saving organisation, there are many ways you can help!
You can have fun whilst fundraising for AANI: Why not host a bake sale, run the marathon or get creative with your fundraising ideas. The team at AANI has put together a guide to help you come up with some fundraising ideas. You can also find some resources on their website to help you.
Factor AANI into your will: You can leave a gift in your will to the Air Ambulance Northern Ireland by following their guide online, which can be found on their website.
Donate via Gift Aid: If you are looking to make a one-off donation, you can do this by visiting their donation page on their website.
We hope you have enjoyed reading and learning more about the AANI, they make up a vital part of our emergency services here in Northern Ireland. Make sure to give them a follow on their social media via Instagram or Facebook.