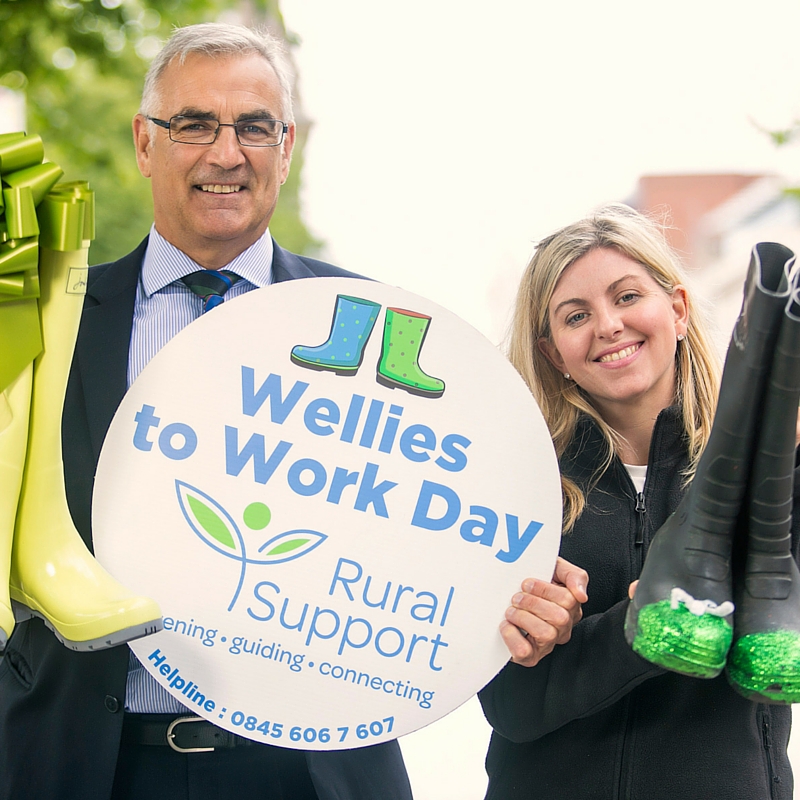 Leah Deehan our Technical Manager at Mash Direct was thrilled to discover this week that she has won the top prize for 'Wellies to Work Day' with her custom glittery wellies (see pictures below).
At the start of June this year our Mash Team participated in 'Wellies to Work Day', a social media initiative urged the public to wear their wellies to work and upload photographs and selfies of themselves with the hashtag #WelliesToWork to raise awareness of the important services Rural Support offers across Northern Ireland, including a dedicated helpline for the farming community.
Everyone participating in Mash Direct did their best to make their wellies stand out, however, Leah's customised glittery wellies won her top prize within Mash Direct and overall! For her efforts Leah was delighted to receive a pair of designer wellies, to help her get around our farm in style.
Simple Power Chief Executive Philip Rainey presented Mash Direct with a pair of designer wellies this week at their Belfast offices, commenting, "We are delighted to reward Leah for her creative efforts in the second Wellies to Work Day and we are extremely grateful to everyone that got involved."
Rural Support Chief Executive, Jude McCann expressed his gratitude to all those who took part: "We are truly delighted with the success of the second Wellies To Work Day and would like to extend our thanks to everyone that contributed and of course to Leah, our deserving winner. We hope this campaign has made the people of Northern Ireland aware of the work we do and support we provide, especially during tough times for the rural community. We would urge anyone who is in need of support to contact our dedicated helpline on 0845 606 7 607 and to speak to our highly experienced staff and volunteers."
Since 2002, Rural Support has been helping farming and rural families across Northern Ireland on a wide range of issues, from physical and mental health, farming paperwork and financial issues. The charity provides support for the rural community through a helpline offering listening and signposting service.
We can't wait for next year now, make sure you get involved!