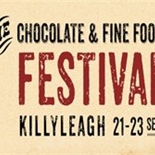 Mash Direct is proud to sponsor of this year's Killyleagh Chocolate and Fine Food Festival.
The Killyleagh Chocolate Festival is being held in the iconic Hans Sloane castle, Killyleagh, and is three days of food and family fun. The festival starts on 21st of September, beginning with a Grand Ball, then community events on Saturday. On Sunday 23rd, the castle will host a family fun day which is open to the public.
Why not take a trip down to Killyleagh for the family day on Sunday? There will be fabulous food, magnificent music and gregarious games! Our team will be there with the Mash Bus outside the library, serving big helpings of our famous bangers and mash. The family fun day takes place from noon until 6pm. Kids go free and entry is £2.50 for adults. Sound like a great day out? You don't want to miss it!