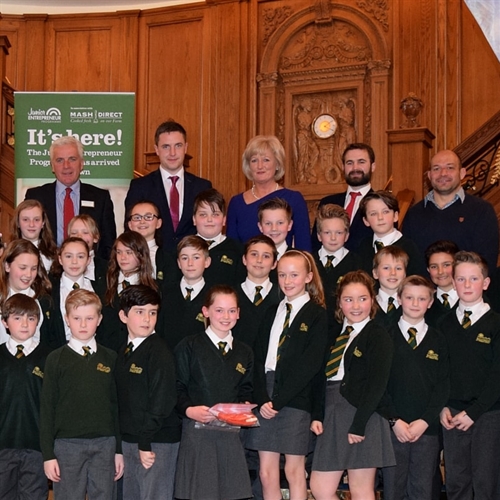 Entrepreneurs of the future joined for the final showcase of the Junior Entrepreneur Programme (JEP) today hosted by Mash Direct and rugby star Rory Best in the Titanic Building, Belfast.
Comber-based, family run company Mash Direct launched the exciting new programme two years ago to uncover County Down's businessmen and women of the future. The Junior Entrepreneur Programme (JEP) encourages innovation, creativity and business vision amongst ten and eleven year olds with Mash Direct spearheading the search for local entrepreneurs of the future, right across the county.
JEP is proving to be hugely successful, signing up more than 10,500 primary school children in 400 schools. Mash Direct are the sponsor for County Down, providing financial support for the programme and on-going background support for the teachers involved. There were 16 P7 classes participating this year from County Down.
Speaking at the event Mash Direct, Managing Director, Martin Hamilton said: "To see the creativity and enthusiasm for business from these young students is very exciting. Through JEP they have created businesses that are viable, profitable and most of all, they had fun whilst developing new skills and discovering hidden talents. The Junior Entrepreneurship Programme is vital to support the Northern Ireland economy, we want to focus and encourage a new generation of young people to follow their dreams."
Entrepreneurship skills are one way to bridge the skills gap and create strong business in Northern Ireland for years to come. This was recognized by the support from Ards and North Down Borough Council, Armagh City, Banbridge and Craigavon Borough Council and Newry, Mourne and Down District Council. It has been found that pupils who participate in entrepreneurship programmes demonstrate increased initiative and self-confidence. JEP participants develop skills in presentation, drawing, technology, research, numeracy as well as problem solving, collaboration and brand and consumer awareness.
In its second year supported by Mash Direct, the 'Junior Entrepreneur Programme' has taken place over 10 weeks during the Spring term in 2016 with local business leaders taking on the role of the familiar businessmen and women of the hit TV Show Dragon's Den, supporting schools and their participants as they develop their ideas.
On the day of the County Showcase, participants are given the opportunity to display their work and view the other school's efforts. With exciting ideas including, positivity pots, printed tea towels, soft bunnies, memory stones and homemade gingerbread men.
The showcase finished with Tracy Hamilton hosting a Q & A with guest speaker and rugby star Rory Best as well as the presentation of certificates to the school children by Mash Direct.