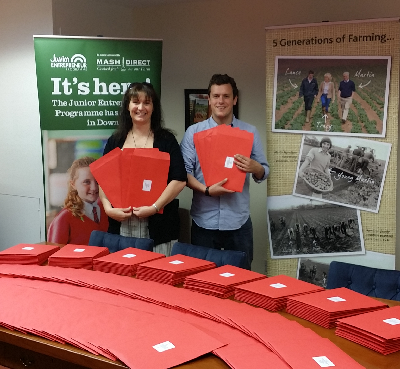 Mash Direct Launches the Junior Entrepreneur Programme in County Down!!!
Big Day at Mash Direct HQ
Today we are sending out over 200 'Big Red Envelopes' to primary schools across County Down. Inside will be all the information needed to sign your school up to the exciting 'Junior Entrepreneur Programme' (JEP), designed to uncover County Down's bright young business leaders of the future!
JEP is already a huge success in the Republic of Ireland and this year Mash Direct are very excited to be bringing it up North for the first time. We are on the look out for enthusiastic P7 classes to sign up for this 10 week programme in the Spring term of 2015, a refreshing project to focus on after all your AQE exams are done and dusted!
The Programme will give pupils an invaluable and fresh insight into the world of business and entrepreneurship. Our M.D. Martin Hamilton puts it best, "we want to focus on the future and encourage a new generation of young people to follow their dreams and become successful entrepreneurs".
And it's not only the schools we want to hear from, we want to include local businesses too. We want local entrepreneurs to volunteer and get involved in providing guidance and advise to all the 2015 participants. This is a fantastic opportunity for local businesses to give back and get involved with their communities.
JEP has been fully endorsed by the Northern Irish Council for Curriculum and Assessments and a number of schools have already signed up.
Places are limited so please get in touch with us as soon as possible to guarantee your school's place on the programme!
For more info check out www.juniorentrepreneur.ie or if you have any questions get in touch at jep@mashdirect.com