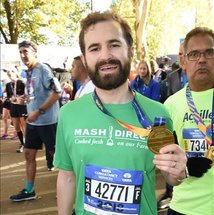 Last week, Jack Hamilton, Director, joined over 52,000 athletes to take on the New York City Marathon 2018! Now the biggest and most popular marathon, Jack took to the New York City streets to complete the Marathon in 3:57:34, placing 13,352 out of the 52,697 runners.
Jack is delighted to have run the marathon in aid of Mencap, proudly displaying the logo on his 'Powered by Mash' t-shirt. Although donations are still coming in to Jack's Just Giving page we can confirm that he has raised £3,287 for Mencap already!
Jack Hamilton commented, "It was a fantastic experience! The runners and supports were out in force and created a great atmosphere to run in. I would like to thank everyone who donated to Mencap."
Mencap delivers a wide range of practical support services for children, young people and adults with learning disabilities and their families and carers.
There are 42,000 people with a learning disability living in Northern Ireland.  People with a learning disability can go to school, university, play sport, fall in love, get married, buy houses, have children and lead happy, independent family lives.
If you would like to learn more about the work that Mencap does, you can visit their website.