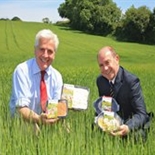 Mash Direct has recently switched its energy supply to natural gas supplied by Firmus Energy. The switch from oil has resulted in significant financial savings for Mash Direct as well as reducing the company's carbon emissions by over 24 per cent which equates to taking around 73 cars off the road.
Switching to natural gas as an energy source is a major leap forward in Mash Direct's journey to reducing its impact on the environment, as Martin Hamilton, Managing Director, of the award-winning company, explains:
"Every day on the farm we cook around 20 tonnes of fresh vegetables using large steam cookers. Prior to switching to natural gas supplied by firmus energy, our consumption levels of oil each month were significant. Generating this amount of energy with natural gas has proven to be much more cost effective and equally important; it has reduced our carbon emissions by almost a quarter! Switching to natural gas supplied by Firmus Energy marks a key milestone in our plans to becoming even more environmentally responsible and increasing Mash Direct's green credentials.
"Mash Direct prides itself on product innovation and development. At our farm production facility in Comber, all our freshly harvested vegetables are steamed to ensure the highest quality product for our customers. In 2007 we invested in dual fuel boilers and then again in 2009, initially for oil but with the long term strategic plan to enable us to connect to the natural gas pipeline that runs adjacent to our production site. The dual fuel boilers are much more energy efficient, take a lot less time to reach optimum temperature and conveniently require less maintenance and cleaning. Previously, when we used oil in these boilers, cleaning was a much heftier and time-consuming job for the team.''
Paul Stanfield, Head of Sales for Firmus Energy comments:
"Many businesses are continuing to feel the strain of the economic downturn and becoming increasingly aware of the environmental impact of its operations. Mash Direct is a 'green' example of a company which not only seeks to reduce its carbon footprint but at the same time significantly reduce the company's energy costs. These benefits exist for many businesses across Northern Ireland and the switch to natural gas is a small step forward with large rewards.
Around 8,000 businesses in Northern Ireland now use natural gas as their main energy supply, with this number anticipated to rise as the price of natural gas continues to be more competitive than other energy sources. Martin Hamilton concludes:
"As natural gas prices by Firmus Energy track the global energy prices, we have clear visibility of what we are going to pay for our energy. Firmus Energy clearly format its bills, which allows us to quickly calculate how the final figure is reached, giving us the added reassurance that the billed amount doesn't incur any unknown charges! With expansion plans for Mash Direct in the pipeline, our energy usage will undoubtedly increase and in the future we hope to take advantage of combined heat and power (CHP) to further reduce our carbon emissions and re-use wasted energy where possible at our site in Comber."