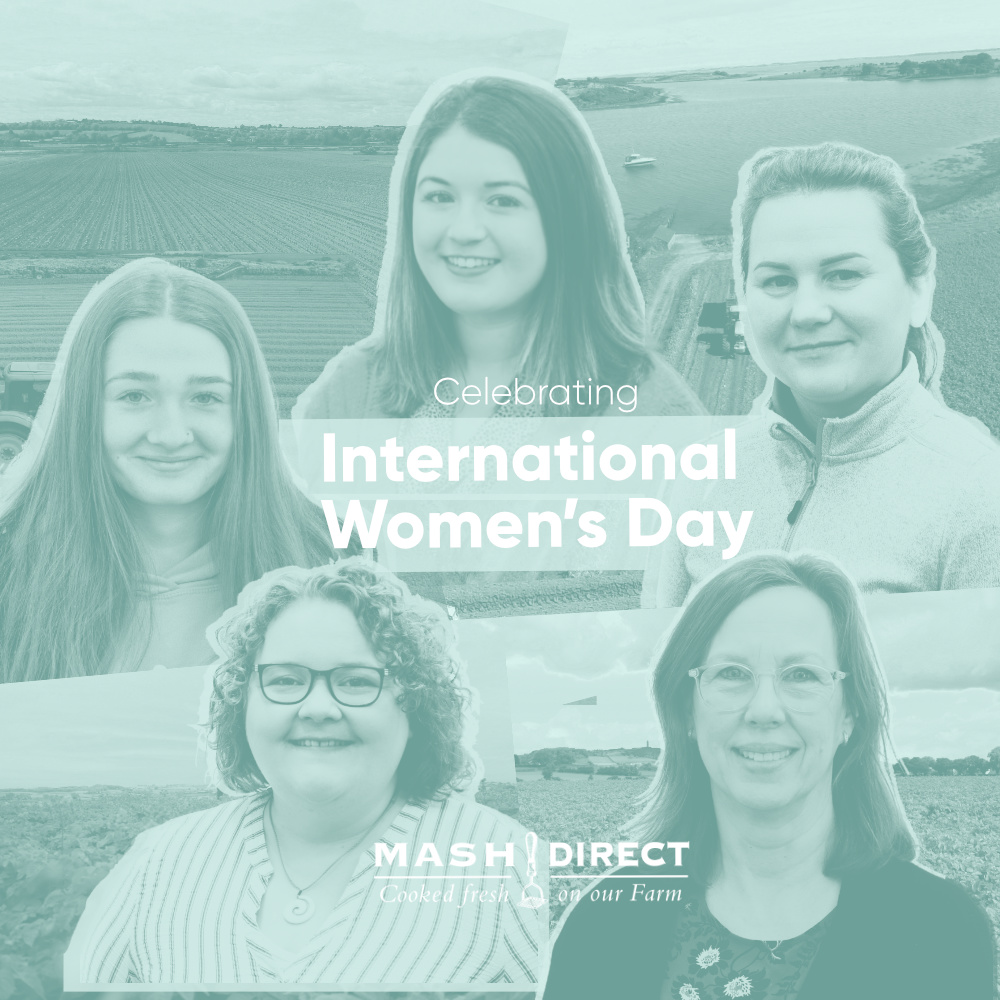 Today we celebrate International women's day 2022 and would like to acknowledge and honour all the hard-working women at Mash Direct.
We are proud to be part of such a strong team with amazing female colleagues that inspire us every day here at Mash Direct and across the world. 
On this occasion, we asked some of the ladies on the Mash Direct team some questions and to share their best career advice:
Natalie
My name is Natalie and I am the Technical Coordinator at Mash Direct. I provide administrative support to the Technical Manager & Department, and ensure we are compliant with all our food safety standards.
I have had a challenging (nearly) three years at Mash Direct, especially during a pandemic. No day is the same in food manufacturing, but all the work involved in producing high quality, tasty products has been a very rewarding experience.
I am delighted that I have had the opportunity to work with many amazing women at Mash Direct. My advice to all women in business is to never be afraid of a challenge, don't hold back from showing your true potential, and lead by example for all women starting their careers in business.

Kara 
My name is Kara and I work in the sleeving team at Mash Direct. I'm also a student studying physiotherapy while working here, and it's great to have the flexibility to do both. I was looking for a job I would like and when speaking to the lady on the phone, it sounded like something I would enjoy. I have worked here for over 5 months now and love it.
Work where you want to work and don't let anybody tell you different, no matter what job it is (eg engineer, construction or nail artist).
Gemma 
I am Gemma, Assistant Marketing Manager at Mash Direct. I assist the Head of Marketing with all elements of our Marketing Strategy, from campaign planning and content creation to managing staff schedules and daily operations of the marketing department.
I started working at Mash Direct over 4.5 years ago, as Digital Marketing Executive. Through the experience I have gained in this role, I was able to progress my career and become Digital Marketing Lead. In 2021, I was promoted to Assistant Marketing Manager. It's been an amazing time working within such a talented team, and under such strong female leadership in the company.
Throughout my life I have been surrounded by some very strong female leaders, both in my career and personal life, this has inspired me to see that if you put your mind to it, you can achieve your own goals and challenges. I always live by my Granny's motto that 'everything is solvable' and this helps me strive to find the solution to every problem!
Vigita
I am Vigita Kazlauskaite and I am the Production Manager at Mash Direct. I started working at Mash Direct in 2006. I have been able to see how far the company has come, from the beginning until now.
Don't be afraid to take a challenge to go into business. Women are loyal, resilient and progressive, and we are also great multi-taskers. Go and enjoy your full potential and develop yourself.
Louise
My name is Louise and I am the Payroll Manager and Assistant Accountant at Mash Direct. I have been working for Mash Direct and MH Farms since 1999.
Prior to Mash Direct being founded, I worked with the Hamilton Family as part of the team at MH Farms. Being involved with the growth of Mash Direct from the beginning has allowed me to be involved in various aspects throughout the business. I have worked in Accounts and Payroll, responsible for projects such as setting up new product barcodes and running payroll for 300 employees.
"Girls with dreams become women with vision". Never be afraid to follow your dreams, as they are what will help you see the success you can have in life and in business.