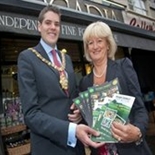 Northern Ireland's Independent Retail Association (NIITRA) launched an initiative to promote and support local independent retailers and encourage members of the public to buy at least one item from their independent retailer during Independence Day.
The independent sector has over 1300 members across the Province, employing over 30,000 staff with an annual turnover of more than £3 billion.
Mash Direct were proud to support this intiative and encourage consumers to buy local produce from their local independent retailers.  Tracy Hamilton attended the official launch of the Independents Day campaign with the Lord Mayor of Belfast, Alderman Gavin Robinson at Arcadia Deli on Belfast's Lisburn Road.
Glyn Roberts, Chief Executive NIITRA said:
'Independence Day is more than just encouraging consumers to shop independently, it is about celebrating the huge contribution our local traders make to our local economy, local producers and town centres.'
The Lord Mayor, Alderman Gavin Robinson, commented:
'Belfast City Council is delighted to support this initiative which will promote the fine work, specialties and excellent range of products that our local independent retail sector has to offer. Earlier this year, the council organised the highly successful Belfast Independent Retail Week, which raised the profile of independents in the city, highlighting quality neighbourhood shopping.'
'I would urge as many people as possible to shop local and go out and support our local retailers on 4th July as well as every other day.'
Mash Direct value the support that they receive and continue to get from Independent Retailers stocking Mash Direct.
What will you buy from your local retailer? Visit our Facebook Page and tell us what you bought