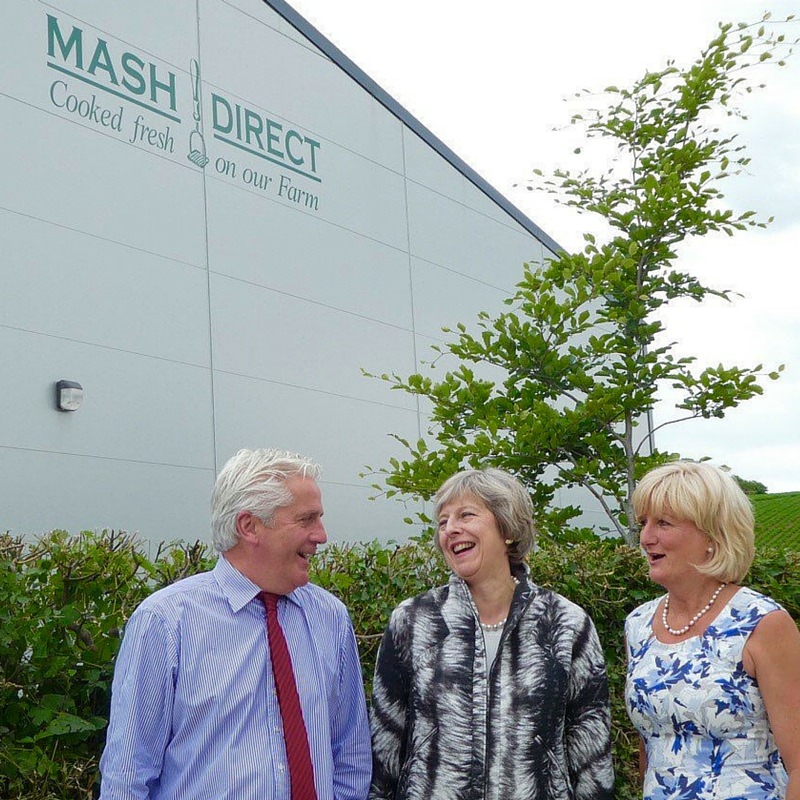 We were thrilled to welcome Home Secretary Theresa May to Mash Direct along with Mike Nesbitt Leader of the Ulster Unionist Party and Philip Smith Ulster Unionist MLA for Strangford. This gave us the opportunity to show the Home Secretary around our farm and demonstrate how we produce and market our wide range of gluten free products.
The Home Secretary Theresa May was on a one day tour of local businesses in Co Down, Northern Ireland on Tuesday (21st June). We were fortunate enough to be amongst the chosen few involved in the visit as the Home Secretary was interested in learning about the success of Mash Direct and how we grow, steam cook and package all our products.
Martin Hamilton, Founder and Managing Director, Mash Direct, commented, "We were delighted to welcome the Home Secretary Theresa May, Mike Nesbitt and Philip Smith to our farm. We have had a number of recent successes at Mash Direct including being named as one of the top Small and Medium Enterprises of the Year by The Grocer Gold Awards, Winning Best Chilled Food Manufacturer in the Food Awards NI and achieving a number of key UK listings for our products. It is always a pleasure to give a tour around Mash Direct and tell the story of our success."
This prestigious visit adds to the list of politicians, celebrity chefs and sports stars that have visited Mash Direct, including David Cameron, Jamie Oliver and Rory Best.