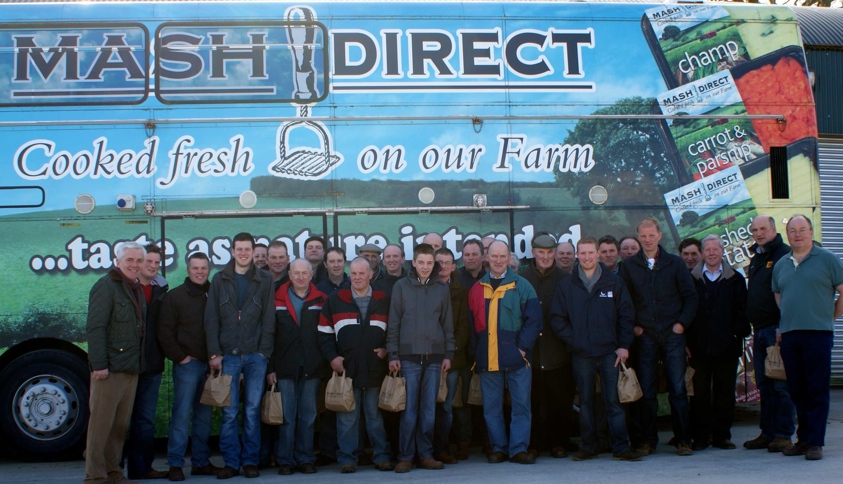 A coach load of members from the South West Antrim Rural Development (SWARD) Group left County Antrim on their Annual Spring Trip, this year going to east side of County Down to see a farm near Comber which has diversified with respect to its selling arrangements.
The farm, based in and around the Comber area with fields as far south as Downpatrick, is different to most in Northern Ireland as it contains no livestock, but instead grows nothing but vegetables, including, potatoes, carrots, parsnips, turnips and a wide variety of cabbage. And while, for twenty-five years they had been growing and selling these vegetables, the way in which they sold these vegetables was all about to change in 2003. Martin met up with a friend, Tony Reid, and they decided to set up a production facility on the farm to produce 'Champ'. One year later that had become a reality and a company called "Mash Direct" had been formed.
Mash Direct are now market leaders in their field, producing an innovative range of quick serve mashed potato, vegetable and cabbage products. All Mash Direct vegetables are steam cooked and packaged on the farm. The members of the SWARD Group were taken on two tours, one to see the farmyard and the many agricultural machines and implements that are used in the production of the crops from the farm and then a tour of the factory itself to see the production facility and the entire process from farm to fork. This was a huge logistical operation to ensure that all planting, spraying and harvesting schedules were met to ensure top quality produce was freely available fresh or from the farm's cold stores on a daily basis. This farm is certainly adding value to their farm produce, a farm that is not growing vegetables for their shape or appearance, but more importantly, for their taste. Before leaving this impressive set-up the SWARD Group members were each presented with a carrier bag of sample produce to let them taste convenience food at its very best.
SWARD (which stands for South West Antrim Rural Development) was formed in 2003 to further farm efficiency and to modernise our businesses.
They have a steady membership of between 35 and 40 members since their formation, and while the vast majority of farmers groups that were formed at that time have fallen by the wayside, the SWARD Group have managed to maintain the interest in the Group.
You can view their Facebook page here: SWARD Group 
[caption id="attachment_1632" align="alignnone" width="300"]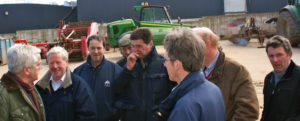 SONY DSC[/caption]