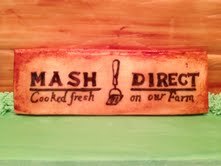 As it is our first post on our new blog and we have just celebrated our 9th birthday, we thought that we would start off with a cake. In this guest blog by Leah of Cakes and Bakes NI, she talks about her recent visit to our farm.
As my readers know cake is my passion. I don't only enjoy creating cake designs unique to each client but I love to eat cake too. My sweet tooth may encompass almost the whole of my mouth but I do have some room left for savoury treats too. I love finding new restaurants to try and while I may have the sweets nailed down my mum and extended family are big foodies in the savoury field so I've never been too far from the love of good food.
So as a change from my usual cakery last weekend I attended my first food blogger event. One of my favourite tweeps Claire was asking for bloggers to pass on to Mash Direct for a potential visit to their farm. I am a fan of their products but really knew very little about their story.
Myself and four other bloggers visited the Farm/ Factory for a fun afternoon of discussion, product testing and an insight into the ethos of this family business.
I must admit I was like many other consumers, if it's packaged and in the convenience food aisle it must be processed and full of preservatives/ additives. I had tried several Mash Direct products and knew that their taste was definitely superior to other brands but I wasn't aware just how fresh and free fromadditives their products truly are.
Mash Direct was dreamed up in 2003 up by Martin Hamilton, the fifth generation of a Comber farming family, who wanted to produce Champ to make the most of the farm produce. The Hamiltons (Martin, his wife Tracy & sons Jack & Lance are at the core of the business) knew that diversification was the key to longevity in the farming business. They set about investigating the best way to produce quality mash that steered away from the processed gloop that fills Supermarket shelves. This involved enlisting the talents of their neighbour Tony Reid, an engineer who specially built their unique masher and steam ovens.
Over the last nine years the business has grown to include a lengthy list of products additional to the core range. As the range grew so did the factory, staff and fields. They now have a dedicated staff of over 100 who produce the orders that leave the farm daily for distribution to UK, Ireland and destinations as far flung as Dubai & New York.
What came across strongest during my visit to the farm was the intense passion the team at Mash Direct have for their business.  They are now a commercial farm but they have not lost any of their original goals.  They have created an ethos of sustainability & great taste without compromise. There is an assumption that when a business becomes commercial and is sold in all major supermarket chains then there must be a loss of quality or ehtics. In the case of Mash Direct this could not be further from the truth.  At every step they have been leaders in sustainability, health & hygiene & environmental awareness.  They have so many awards and accolades they have run out of room to display them.  As well as multiple taste gold awards they have also come top in a variety of farming awards due to their achievements on the farm.  Mash Direct is also the only company in the whole of Ireland (and one of only three in the UK) to hold the British Retailers Commission A+ rating which is the highest rating from the BRC.
Tracy & Jack Hamilton along with Clare Forster the Marketing Manager shared the history of the company, let us taste test a wide number of products and discussed future plans for the business as it gears up for it's tenth year.  Neil, the General Manager gave us a tour of the factory filling us in on a myriad of facts about production and how each day unfolds.
Here are some interesting facts that I gleaned during my afternoon in Comber:
A typical day starts at 5am for the factory staff with produce being brought in to start the process of peeling, cooking and mashing. It is in its packaging and on a lorry ready for distribution by 11am.  This means the majority of Mash Direct veg is fresher than most veg available in supermarkets.
They use heritage seeds from the 70′s as these produce a better flavour than many current seed varieties because they are not concerned with uniformity of shape and size.  That is why most fruit and veg commercially available today is bland and lacks any distinctive flavour, retailers are more concerned with how the produce looks on the shelves. I notice this flavour most in the sweeter veg like carrot & parsnip mash or honey roast parsnips.  As Mash Direct do not add anything to their products you can taste a real difference when comparing them to other veg.
Once they started to expand the product range they realised that they would need to bring in produce additional to their own crops.  They ensured that these would be local too, much of the extra veg is still farmed in the vicinity of their own farm and meat & dairy is sourced from award winning Northern & Southern Irish companies such as FiveMileTown cheese or Cookstown meats.
The specially constructed machinery by Tony Reid includes the steam ovens that all the veg is cooked in.  Tony's company also constructed all the panelling for the Titanic Belfast Museum.
Once veg has been peeled it is weighed in 50 kilo batches and fifteen trays are put in each oven meaning that 750 kilos of veg is being steamed in each oven at once. It takes approx 30 mins and each batch is hand checked to ensure they're not over or under cooked.  Once steamed they are blast chilled within half an hour of coming out of the oven which is the secret to the longevity of MD products.   A ton of milk and half a ton of butter is used daily in production.
Many of the MD products are approved by The Vegetarian Society as suitable for Vegetarians and a large number are also approved as Gluten-Free. They hope to be completely Gluten-free in the future.  Their new line of Potato Croquettes are even GF with rice flour being used in lieu of traditional flour for the crispy batter. I can attest that this does not affect their great taste at all.
Every product is low in calories, salt & fat.  Even products that include sauces/ meat come in at less than 300 calories. MD were also one of the first companies to use the Green Light system (soon to be a legal industry standard) on their labelling to highlight the low calories and lack of additives in their products.
While at MD we tried a variety of products including some of their more recently added mash pots and soon to be released potato croquettes.  I enjoyed everything I tasted but my highlights were the Potato & Leek Gratin, the Cheese & Onion Croquettes and the Carrot and Parsnip mash. I love the veratility of the side dishes, they're great to add your own twist to, an easy addition to a roast or in the case of the potato cakes, suitable for breakfast, lunch or dinner.  The Mash Pots are the perfect size for a healthy, warm lunch that really blows a bland sandwich out of the water. I even loved the red cabbage and beetroot and I don't like beetroot!
So have I convinced you to give Mash Direct a try? Do you think you can overcome your preconceptions that convenience food can't be healthy, tasty & free from additives? I really do hope you give Mash Direct a go. If you spot the Mash Bus at an event pop over to say hi to the MD team, they'll only be too happy to chat to you about their products and let you have a taste.
And finally, I couldn't let the opportunity to create a veg-tastic cake go by (I am a cake nut after all) so I constructed a special cake for the MD team. The cake is lemon with lemon & raspberry filling and all the decoration is fondant. The veg are Rice Crispie treats covered in white fondant and handpainted.