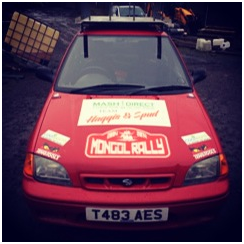 Team Haggis and Spud embark on the Mega Mongol Rally!
10,000 miles, 19 countries, 6 weeks, 5 mountain ranges, 3 deserts, an Irishman and a Scotsman. No this isn't the start of a joke or is it...?
Yep, we can hear you thinking, 'The Mongol what?' The Mongol Rally! This is a mega adventure of chaos, covering all of the above in an epic journey from the UK to Mongolia in cars the size of a lawnmower. Only the downright crazy are sure to survive, which is why we at Mash Direct are sponsoring Team Haggis and Spud (aka Jack Cadzow and Shane Cooke) in their sporty 1999 Subaru Justy!
With a totally unimpressive 1.3 litre engine Team Haggis and Spud will be embarking on some of the worst roads and non-roads in the world... and you thought our potholes were bad!
The rally kicked off in London on Saturday 19th July with a pack of crazed adrenaline junkies preparing to journey through the following countries: France, Belgium, Germany, Czech Republic, Slovakia, Hungary, Romania, Bulgaria, Turkey, Georgia, Azerbaijan, Turkmenistan, Uzbekistan, Tajikistan, Kyrgyzstan, Kazakhstan, Russia and finally, Mongolia. And then back again with another 6,000 miles through Russia and Europe.
Team Haggis and Spud are competing to raise money for their chosen charities; RNLI Lifeboats, MND Scotland and Cool Earth. They have already raised a whopping amount on their fundraising page and will be aiming to raise even more!
We will be keeping up to date with them on their epic adventure and posting regular blogs on the shenanigans we get to hear about.
The last we heard from them...
"We made it to London!!"  
"So we have left battersea park to start the rally, but knocked our exhaust off on the way! Great"
"After a night in Amsterdam, we are not off to the Nurburgring race track in Germany, will they let us do a lap is the question?" 
Keep er lit boys!
Check out some of the photos we have received so far of the trusty Justy below!