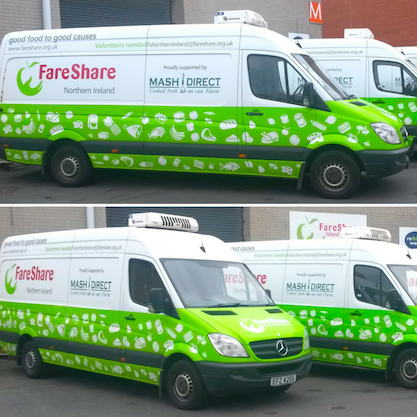 At Mash Direct we are dedicated to tackling food waste, from using wonky veg in our products and working closely with FareShare to deliver our surplus products to charities and community groups who need them.
FareShare work with food producers and supermarkets to save good food destined for waste and send it to charities and community groups who transform it into nutritious meals for vulnerable people. Last year alone FareShare saved 13,552 tonnes of food, supported 6,723 charities and 28.6 million meals for vulnerable people.
FareShare Northern Ireland have been operating successfully for over six years and last year provided 87 charitable projects located in Belfast, Derry, Antrim, Ballymena, Armagh and Cookstown with enough food for over half a million meals. As well as providing food producers with a safe, environmentally friendly and ethical solution to the disposal of waste, FareShare Northern Ireland has provided 54 volunteers with valuable work experience and training in areas such as Food Hygiene, Forklift driving and Health and Safety.
We are very proud to have donated over 35 tonnes of food over the past five years to FareShare Northern Ireland, with deliveries going out to their warehouse every week. We have also supported FareShare Northern Ireland by branding their fleet of vehicles. Members of our team have also volunteered for a day with the charity to see their good work first hand.
To find out more about FareShare and how you can support them through voluntary work or donations, click here.