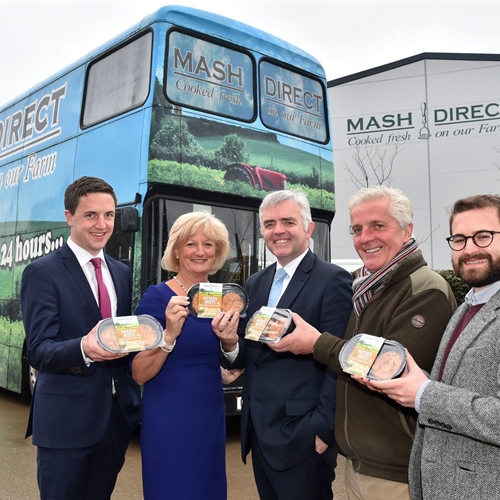 Enterprise, Trade and Investment Minister Jonathan Bell has commended Mash Direct on its continued growth during a visit to the company's Comber-based premises.
Their award-winning range of potato and vegetable products is expanding every year and Mash Direct is now the top selling brand in chilled side dishes in the UK and Ireland.
The company is undertaking growth plans, with £37,000 of support from Invest Northern Ireland, to develop and market its new gluten-free range of Southern Fried Potatoes, Carrot and Parsnip Fries, Potatoes Rostis and Vegetable Burgers. Commenting following a tour of the premises, Jonathan Bell said: "Mash Direct has positioned itself as a leading branded product in the convenience sector and is making a valuable contribution to growing our local food and drink industry. The company supplies most of the supermarkets in Ireland, UK and more recently has started exporting to the UAE.
"Mash Direct has a longstanding engagement with Invest Northern Ireland and has benefited from a range of support to enable the company to target export opportunities. The development of its new range will support the company's continued growth outside Northern Ireland.
The company sources the majority of the fresh potatoes and vegetables from the family farm, in addition to buying from other Northern Irish suppliers. There are now 37 different dishes in the company's product portfolio.
Founder and Managing Director Martin Hamilton said: "As we look to increase our international presence, our domestic focus will firmly remain on creating quality products that our customers will love. Our commitment to innovation in new product development is something we want to become known for all over the world."
http://www.investni.com/news/mash-direct-commended-on-growth.html