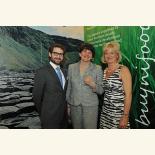 Enterprise Minister Arlene Foster is pictured with Jack and Tracy Hamilton of Mash Direct at the Gulfood Exhibition after announcing that the Comber based company has won its first business in Dubai.
Shoppers in the United Arab Emirates (UAE) will now be able to put champ on the menu, Enterprise Minister Arlene Foster has revealed.
The Minister has announced that Comber based Mash Direct has won its first business in Dubai.
Mash Direct's new business is with Spinneys, the Middle East's premium supermarket chain. The order was secured after the company teamed up with Invest Northern Ireland to attend the SIAL food exhibition in Paris.
The Minister met with Mash Direct at the Gulfood Exhibition in Dubai, one of the world's biggest food and hospitality events. The Minister is currently in the United Arab Emirates (UAE) on a three-day trade development mission and was at Gulfood to support local companies taking part in a Northern Ireland Naturally presentation organised by Invest Northern Ireland.
Arlene Foster said: "This contract means that consumers in one of the most dynamic parts of the Arab world will now be able to enjoy some of our traditional favourites such as champ, carrot and parsnip and mashed potato.
"The company is building on its success as a market leader in the UK and Ireland by exploring and grasping significant business opportunities developing abroad. This strategic focus on growth through exports has already led to worthwhile business in the US and parts of Europe.
"The clear message for other Northern Ireland businesses, is that there are significant opportunities in markets such as the Emirates for companies with quality products and the determination and professionalism to succeed abroad."
Martin Hamilton, Managing Director, Mash Direct added: "The contract with Spinneys gives us an important presence with one of the most quality conscious and consumer focused supermarket chains in the Emirates and wider Middle East.
"The contract also demonstrates just how important it is for Northern Ireland food companies to showcase their products at major international exhibitions. These provide opportunities to meet key food buyers and to discuss their requirements. We'll be working closely with Spinneys to build on our first business with them and to see how we can develop further opportunities throughout the Middle East."
The new business in the Emirates follows another recent success by the company in winning a contract to supply 15 product lines to Budgens in Britain, a contract which will see products available in the chill cabinets in almost 200 stores.