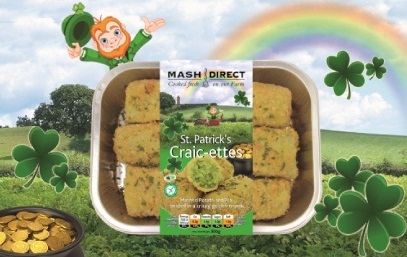 Enjoy the craic this St Patrick's Day with the best in Irish produce from Mash Direct.
In honour of this year's celebrations, Mash Direct has created Limited EditionSt Patrick's Craic-ettes, made from freshly steam cooked and gently mashed potatoes and peas coated in a crispy, golden, gluten-free crumb.  Absolutely delicious and undoubtedly the best way to have the craic this St Patrick's Day!
Another St Patrick's Day favourite is Mash Direct's signature dish, Colcannon, combining creamy mashed potatoes, cabbage and lashings of melted butter, which won a Great Taste Award in 2012.  Tradition has it that charms would be mixed in with the colcannon and depending on which charm was found, it was believed this could predict the future. For instance, a ring meant you would get married and a coin meant you would become wealthy*.  Why not get your family and friends together this St Patrick's Day and try this old tradition using Mash Direct's award-winning Colcannon.
Launched in 2004 by award-winning husband and wife duo Martin and Tracy Hamilton on their farm close to the shores of Strangford Lough in County Down, Mash Direct now produces over 40 convenient vegetable and potato dishes.  With six generations of growing expertise Mash Direct is proud to select older heritage varieties of vegetables which are bursting with flavour. The innovative range is steam cooked to perfection using bespoke steam cookers and mashers to retain the nutritional benefits natural to every vegetable used whilst ensuring the delicious taste and texture of homemade food. No artificial colourings or flavourings are added and the entire range is also gluten-free.
Mash Direct's St Patrick's Craic-ettes will be on promotion priced at £1.50 and will be available in Spar, Centra, Supervalu and independent stores throughout Northern Ireland.
The Colcannon is priced at £1.40 and is also available in Spar, Centra, Supervalu and independent stores throughout Northern Ireland.
*http://www.irishcentral.com/culture/food-drink/colcannon-traditional-irish-recipe-118184429-237376811.html