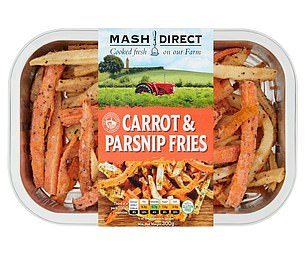 In a recent article by the Daily Mail, our Carrot and Parsnip Fries have been included in 'Five of the best 'Healthy' Chips'
Our CP Fries have been selected by NHS dietitian, Noor Al Refae to be included in Five of the best Healthy Chips
The praise goes to our product team who are hard at work in the kitchen continuously improving upon the quality and health aspects of our products.
A segment from the Mail Online Article outlining the health aspects of our CP Fries:
'A mix of carrots and parsnips coated in rapeseed oil — a portion is one of your five-a-day. As well as fibre, carrots provide beta carotene, while parsnips provide vitamin C and folate, vital for red blood cell formation. Rapeseed oil is a source of omega fatty acids, important for brain function. Parsnips and carrots have a high sugar content, but this is outweighed by their nutritional benefits.'
We are thrilled to be selected and don't forget to pick up a packet next time you're in store!
Read the full Daily Mail article here:
https://www.dailymail.co.uk/health/article-6824349/Five-best-Healthy-chips.html