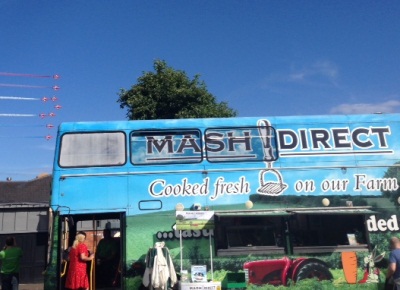 The Mighty Mash Bus and team joined the vast crowds at the Festival of Flight on Saturday 9th August in Newcastle, County Down to catch a glimpse of the outstanding aerial displays, which included a fly past by the world's last flying Vulcan bomber, an amazing display by the infamous Red Arrows and a colourful parachute demonstration by the RAF Falcons!
Serving up delicious Bangers and Mash meals straight from the Bus along with lots of tasty samples, the Mash team ensured that all keen aviation spectators were well fed.
The sun shone brightly throughout the day, which ended on a high when the infamous Red Arrows appeared and triumphed in the skies.  They even created a giant red heart in the sky right beside the Mighty Mash Bus!! WOW!