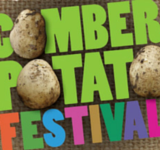 Despite the torrentially rainy start to the day we had a wonderful time serving Bangers and Mash and handing out delicious free samples to our local Mash Fans at the Comber Potato Festival. We even brought the Mighty Mash Bus with us which served as a temporary ark!
We were delighted to see so many people turn out for the event and spotted some very trendy wellies in the mix!!
Mash Direct is based in Comber and we grow our own vegetables on the farm at Ballyrainey and so the local area and our neighbours are very important to us, which made it great fun catching up with everyone at the Festival, particularly as we were recently awarded the Ards Borough Business Award for the Best Family Business in the area.