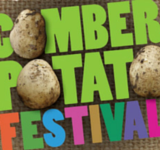 The team attended the Comber Potato Festival on Saturday 4th July where we took part in the celebrations of the town's famous Comber Early Potato.
We were also proud sponsors of the Comber Potato 10K Road Race alongside the Potato Festival. The 10K run was the first road race in Comber for 31 years organised by Ballydrain Harriers.
We would like to thank Norman Mawhinney and all those who helped organise, support and assist in making the event run as smoothly as possible.
Finally, a massive and special thank you the Mash Direct Team, Ballydrain Harriers and all those who took part in the 10K road race. It was an extremely challenging course! Well done! All the hard work and training paid off!