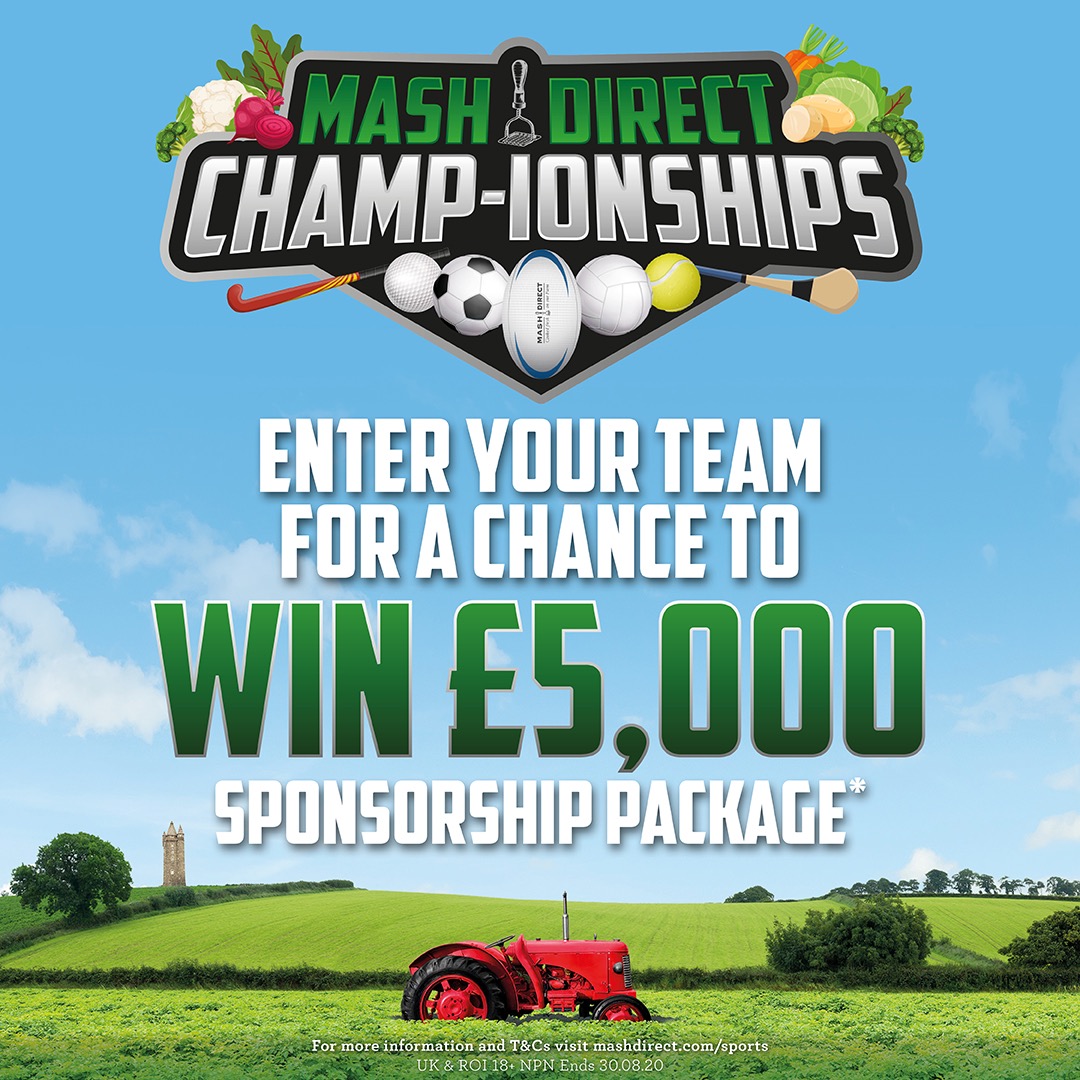 Game, Set, Mash!
We are giving sports teams the chance to win a £5,000/€5,400 sponsorship package!
We are pleased to announce the launch of our new sports campaign, 'The Mash Direct Champ-ionships' on 29th July 2020.  This campaign will give teams across the country the opportunity to win the top prize of a £5,000/€5,400 sponsorship package which includes a Mash Direct branded playing kit for the forthcoming season.
Covid19 has seen the temporary closure of many sports teams and prevented people enjoying certain fitness activities.  We are launching this campaign to help UK and ROI sports teams to recover and is part of our overall commitment to support health and wellbeing.
We have paused advertising on Facebook until they have taken further action against racism and hate speech and are instead putting these funds to better use by supporting local sectors who have been significantly impacted by the pandemic.  Following hot on the heels of our Dine In to Dine Out Campaign to support the hospitality sector, the Mash Direct Champ-ionships supports the sports community with a sponsorship package and reconnects teams together.
In order to enter the 'Mash Direct Champ-ionships', teams will be required to complete an application form (www.mashdirect.com/sports), detailing why they are the most suitable team to win the £5,000/€5,400 sponsorship package.  Teams will then create a short video showcasing their skills and incorporating Mash Direct into their training sessions.  Applications will be judged by a variety of sporting stars and personalities who will decide on who they think is most deserving of the prize.
Jack Hamilton, Chief Operations Officer comments: "We are excited to be launching the Champ-ionships campaign to support the sporting community to recover from Covid-19 and to encourage an active lifestyle. Our range of award-winning vegetable accompaniments are perfect for consumers that play sports and regularly exercise, and we hope that this initiative encourages consumers to incorporate delicious and high quality veg in their daily diet."
The Mash Direct Champ-ionships launches on the 29th July 2020.  To enter the competition, individuals will need to visit www.mashdirect.com/sports, fill out a form and enter a short video on the Mash Direct social channels.