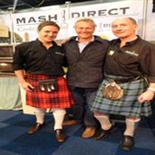 Local Celebrity Chef Nick Nairn, a close friend of Lee (Commercial Manager, Mash Direct) visited our stand in the Food Pavilion at the Royal Highland Show to sample our exciting new Mash Pots.
Mash Direct recently launched three new lines under the 'Mash Pots' range: Bangers and Mash, Mashed Potato with Carrot and Parsnip and Bacon Bits, and Colcannon Gratin. The new range is a healthy microwaveable snack aimed at the Food to Go Sector as an alternative to sandwiches, wraps and burgers. Nick gave us great feedback and thought our Mash Pots were delicious.
Nick, Tracy and Lee were later interviewed on the Mash Direct stand by East Coast FM about the importance of local produce and the success of the company. Nick was extremely complimentary about the quality of Mash Direct's products. Nick was delighted to pose for a photograph with Lance and Lee who were wearing their kilts.