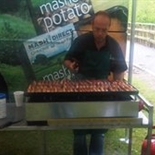 As part of The Queen's Diamond Jubilee celebrations, over 20,000 people attended a party at Stormont and we were there with the 
Mash Direct bus
 providing catering for the public.
Our team served up hundreds of portions of bangers and mash to the crowd, using over a quarter of a tonne of potatoes during the day. All profits from the event were donated to Children in Need.
The Queen and Prince Philip attended the event later in the afternoon and were driven through the Stormont Estate in an open top vehicle to wild cheers from the crowd.
More photos from the day can be seen over on our 
Facebook 
page.