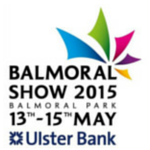 Well that is the Balmoral Show over for another year! We had an action-packed three days.
We were in the Food NI Pavilion and the Mash Bus sampling our tasty treats and enjoying the phenomenal atmosphere! We had some additional news to announce as we picked up the prestigious Brand Innovation Award from Henderson's for our Vegetable Burgers.
Another highlight for us was the amazing comments we received from our lovely customers! Here are a few snippets!
"Hi folks, I just wanted to say thank you to the staff on the Mash Direct stand at Balmoral Show on Tuesday. I was there with my wife and two children and the Mash Direct samples went down a treat with my very hungry 11-month-old son as we walked around the show. After he devoured no less than four of the wee sample pots, I think you've got a customer for life!! Many thanks once again for the delicious food."
"Your products are delicious. I am a diagnosed coeliac and it was great to see these are all gluten free and that you have obtained Coeliac UK accreditation. Well done on a superb range of products - they are truly wonderful!"
"My partner and I just tried your veg burgers with spring cabbage today. AMAZING! They're also accidentally vegan, which is just superb! We've put a post up about them on our local vegan facebook group page, and in 'what fat vegans eat' on facebook - which has 36,000 members. Good work on the deliciousness! Mia. xx"
It was an amazing event and thank you to everyone who came by to say hello! We hope you all enjoyed the show as much as we did.
The Mash Direct team are already looking forward to the 2016 show!
Check out our Facebook page for more highlights from the show.