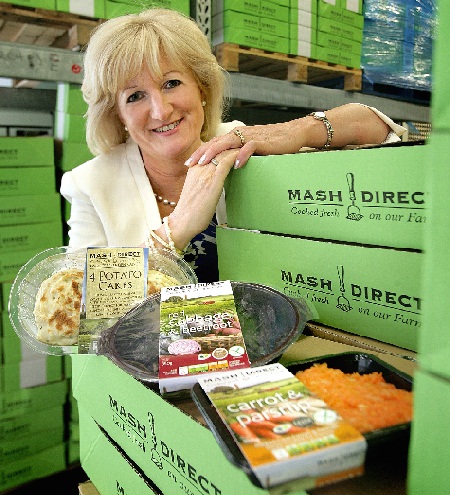 Tracy has won the Women and Agriculture Award for Agribusiness and Innovation!
The Women and Agriculture Awards provide a national platform to recognise the central role women farmers play in farming and acknowledge the innovative approach they take to diversification of farm businesses.  We are absolutely thrilled to announce that Tracy has won their top award this year for Agribusiness and Innovation!
It is a lifetime award and Tracy will now go on to represent Ireland for the EU Innovation Prize.
Tracy is an inspiring businesswoman who has demonstrated outstanding commitment to Mash Direct and is a tireless ambassador for the Northern Irish food industry.  She is the first woman to be elected to the Board of the Northern Ireland Food and Drink Association (NIFDA) and also sits on the Food NI Board.  Tracy is a supportive and active member of Women in Business and the Institute of Directors.
In her spare time, when her hectic work schedule permits, Tracy actively supports the local community by attending and sponsoring community events.  She often delivers presentations to farming societies, business groups, women's institutes, charities and many other clubs who are inspired by the success and rapid growth of a local company.
Her passion and hard work is an excellent source of inspiration  to others in the farming community and Tracy really is a true leader in agribusiness innovation.