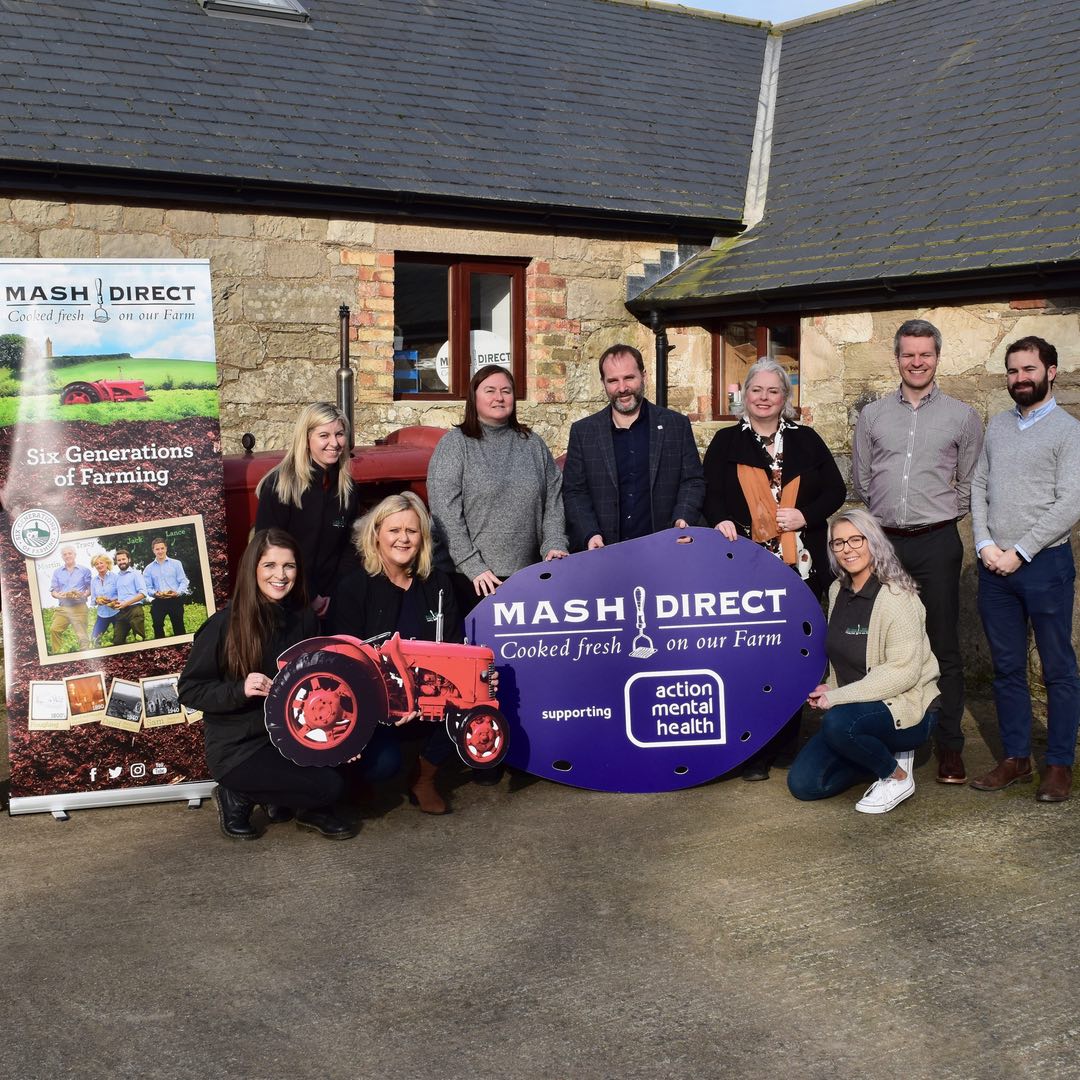 Mash Direct Launches First Charity Partnership with Action Mental Health During Mental Health Awareness Week.
We are delighted to announce an exciting new charity partnership with Action Mental Health.  The partnership will raise vital funds to support the charity's work across Northern Ireland.  This week is Mental Health Awareness week (18th-24th May 2020) which is focussing on the power and the potential of kindness.
We will be joining forces to come up with exciting new initiatives within the workplace to tackle mental ill-health as well as providing an array of different fundraising opportunities to support Action Mental Health, allowing them to continue the valuable work that they are doing.  Action Mental Health is hosting a virtual 'Great Big Purple Picnic' to help raise awareness of positive mental health and raise vital funds for the organisation as part of Mental Health Awareness week.
The partnership will provide varied and informative staff training as well as engagement opportunities for our employees to share their skills, improve their own well-being and increase their knowledge of positive mental health, while further helping to break down the enduring stigma around mental ill-health.
We selected the charity as a result of a staff-wide vote, illustrating just how excited everyone is about the partnership.  As a result of everything that is happening due to COVID-19, it is now more than ever that we feel we need to focus on and look after our employee's mental health, ensuring that they are coming together whilst staying apart.
Jack Hamilton, Chief Operating Officer said, "We know that one in five people in Northern Ireland will show signs of mental illness during their life, and that one in ten children will experience a diagnosable mental health disorder.  As a company we recognise that this is a huge issue for Northern Ireland and one that we are very passionate about in helping to address through our partnership with Action Mental Health."
Jonathan Smyth, Fundraising & Communications Manager for Action Mental Health added, "We are thrilled to be selected as Mash Direct's new charity partner and are delighted to be working alongside them as they look at new ways of supporting their staff's well-being.  It is widely recognised that a healthy, balanced diet can help to promote positive mental health.  A healthy and varied diet can really help to provide more energy to an individual, allow them to think more clearly and ultimately improve their general mood.  Therefore, we feel as though this partnership will work perfectly and be mutually beneficial on both sides.  We are looking forward to working with the team at Mash Direct!"
Action Mental Health delivers a range of services across Northern Ireland including the provision of recovery services for adults as well as resilience and emotional well-being training in schools and indeed is currently adapting these services for online and remote delivery, while face to face contact is not possible.
Action Mental Health website: www.amh.org.uk