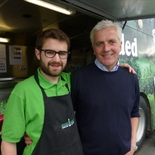 It has been quite a few weeks for Comber spuds!   Not so long ago they were being served to the most powerful world leaders at the G8, including Barack Obama, Angela Merkel and Vladimir Putin, and this week they were being honoured at the Comber Potato Festival (we hope the first of many)!
What a success! The Comber Potato Festival was an amazing event with great music, vintage tractors and, of course, food. We were there sampling as well as doing full meals in our Mash Bus as 'Mashtonbury' took on Glastonbury on the same day – we all know who the real winner was!
So what makes Comber so special to us?   The history of the Comber area is synonymous with potato growing and the Hamilton family.  Not only does the area have earliest spuds in the season, it is also thought to be the home of the earliest literary reference to potatoes in Ireland, dating back to 1606:
'Her Ladyship also had farms at…Coiner [the old name for Comber]…both to supply new-comers and her house; and she easily got men for plough and barn…for which she gave them grass and so much grain per annum and an house and garden-plat to live on, and some land for flax and potatoes". 
Why do they come so early?  Sheltered by the Mourne mountains to the south, and the Ards Peninsula to the east as well as the protection from frost from Strangford Lough, the largest inlet in the British Isles.  This means that the growing season can start earlier than in other regions and consequently the harvest can too.
Martin is a fifth generation son of the soil for Comber spuds and Lance and Jack make up the sixth generation so here at Mash Direct we know the fields well!  We are selling our potatoes from a double decker bus in Comber Square as well as into supermarkets in the UK and Ireland as well as further afield in New York, Dubai and Abu Dhabi.  World leaders were enjoying some Comber spuds at the G8 last week. At Mash Direct we want to make sure that they are available to them in their local shop across the world too!