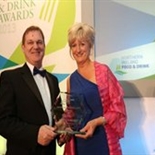 We received the Highly Commended Award for Environmental Excellence at the NIFDA Awards this week.  The award was presented by Terry A'Hearn, Chief Executive of the Northern Ireland Environmental Agency (NIEA).
We pride ourselves on our sustainability and our environmental excellence, values that were rewarded at the Northern Irish Food and Drink Awards last week with the Highly Commended Award.
As the farm has grown, so has the demand on resources.  Consequently, environmental management has been implemented to adapt best farming practices and assist in restoring farmland and biodiversity.