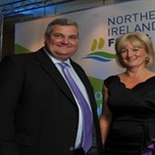 NIFDA held their 15th Annual Dinner last week.
Guest speaker Mark Price, Waitrose Chief Executive was encouraged by the the enthusiam within the Northern Ireland Food and Drink sector and the potential opportunities that lie within the market. Mr Price even hinted at a possible move into Northern Ireland by the upmarket retailer. Tracy Hamilton was at the NIFDA Dinner representing Mash Direct and once again an enjoyable evening was had by all!
Pictured below is Mark Price, Chief Executive of Waitrose and Tracy Hamilton, Director at Mash Direct.